Practice putting like the pros:
STEP ONE
Unroll the mat on a smooth, even surface
STEP TWO
Assemble the magnetic roll-back track
STEP THREE
Enjoy professional-grade putting practice indoors & outdoors
Crystal Velvet Trueroll Material
Take the practice green home with the putting mat material that rolls a smooth, realistic 10-14 on a Stimpmeter.
Solid Wood Backstop
Builds distance control with immediate feedback on long misses.
Training Lines
Develop a straight-back, straight-through stroke that gets every putt rolling on line.
1 or 2 hole sizes
Improve precision on your indoor putting mat so you can aim small & miss small on the course.
Magnetic Snap Return Track
Clicks together securely for fast setup and storage that's just as easy. But its elegant wooden finish may tempt you to leave it out.
MAT LENGTH:
Standard: 9'6", Compact: 8', Extra Long: 15'5"
HOLE SIZES:
Small: 6.5 cm (2.56 in), Large: 8.5 cm (3.35 in). *Compact will only have 1 Small hole
MATERIAL:
Velvet & felt turf; Pine wood backboard & roll-back track; Rubber base
EVERYTHING GOLFERS LOVED ABOUT
THE ORIGINAL PERFECT PUTTING MAT™, PERFECTED
EVERYTHING GOLFERS LOVED ABOUT THE ORIGINAL PERFECT PUTTING MAT™, PERFECTED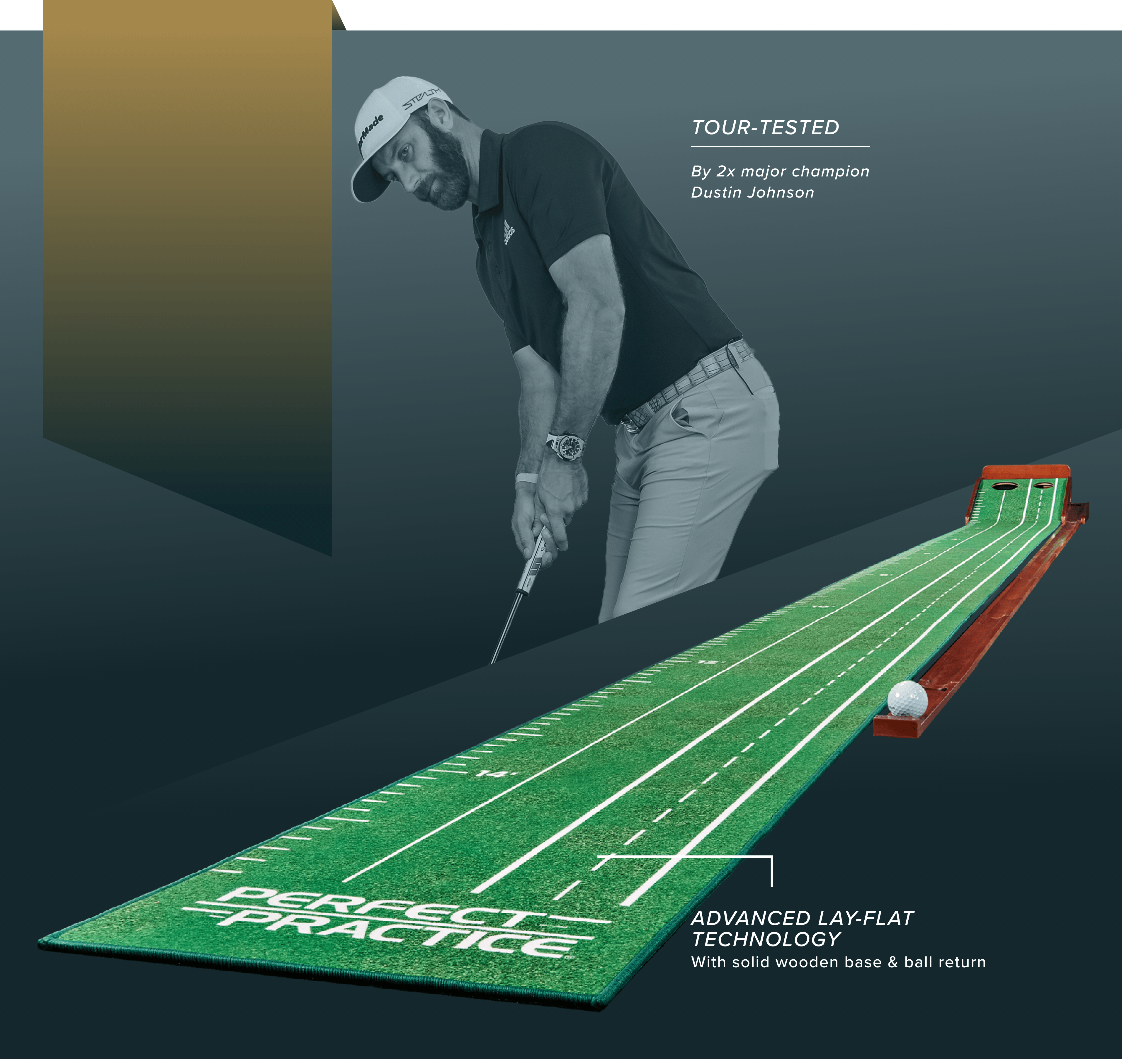 V5-XL
Extra Long Edition
15FT • 5IN
Over 15 feet of our realistic putting mat material and improved lay-flat technology make the V5-XL putting mat perfect for the biggest golfer in your life, or the biggest room in your home. Its magnetized return track sets up in seconds to empower endlessly repeatable practice. But with this much putting space in a fine wooden finish – you may be tempted to make it part of the room.
GET THE PERFECT MATCH
CUP SIZE(S)
MAT LENGTH
RECOMMENDED SPACE
V5-CM | Compact Edition
V5-CM
V5-ST | Standard Edition
2.56" (6.5 cm)
3.35" (8.5 cm)
$189.99
V5-ST
V5-XL | Extra Long Edition
2.56" (6.5 cm)
3.35" (8.5 cm)
$199.99
V5-XL
GET THE PERFECT MATCH
V5-CM
Compact Edition
V5-ST
Standard Edition
CUP SIZE
2.56" (6.5 cm)
3.35" (8.5 cm)
V5-XL
Extra Long Edition
CUP SIZE
2.56" (6.5 cm)
3.35" (8.5 cm)