Practice putting like the pros:
Each stroke mimics the green
Ridge-free velvet and felt turf help replicate 10-14 stimpmeter speeds golfers would experience on the course.
Improve & perfect aim
Strengthen accuracy and precision by practicing on 2 smaller holes.
Get immediate feedback
Well-measured track lines help golfers visualize the path of their ball and when to make modifications to their posture.
Retrieve golf balls automatically
A magnetic roll-back track permits smooth and seamless ball return.
Keep everything in place
A well-constructed rubber underside grips the ground to prevent the mat from shifting and becoming wrinkled.
STEP ONE
Unroll, massage & bend mat until flat.
STEP TWO
Iron on a low setting or vacuum remaining bumps.
STEP THREE
Assemble roll-back track & begin putting!
PUTTING DISTANCE:
8' (2.4 m)
HOLE SIZES:
Small: 6.5" (2.6 cm), Large: 8.5" (3.3 cm)
MATERIAL:
Velvet & felt turf; Pine wood backboard & roll-back track; Rubber base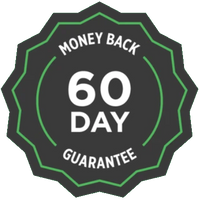 Our Guarantee: If you're not satisfied with The Perfect Putting Mat -- Collegiate Edition for any reason, you can return it for a 100% refund within 60 days. No questions asked, and we'll pay your return shipping. For a refund, contact us at
[email protected]

.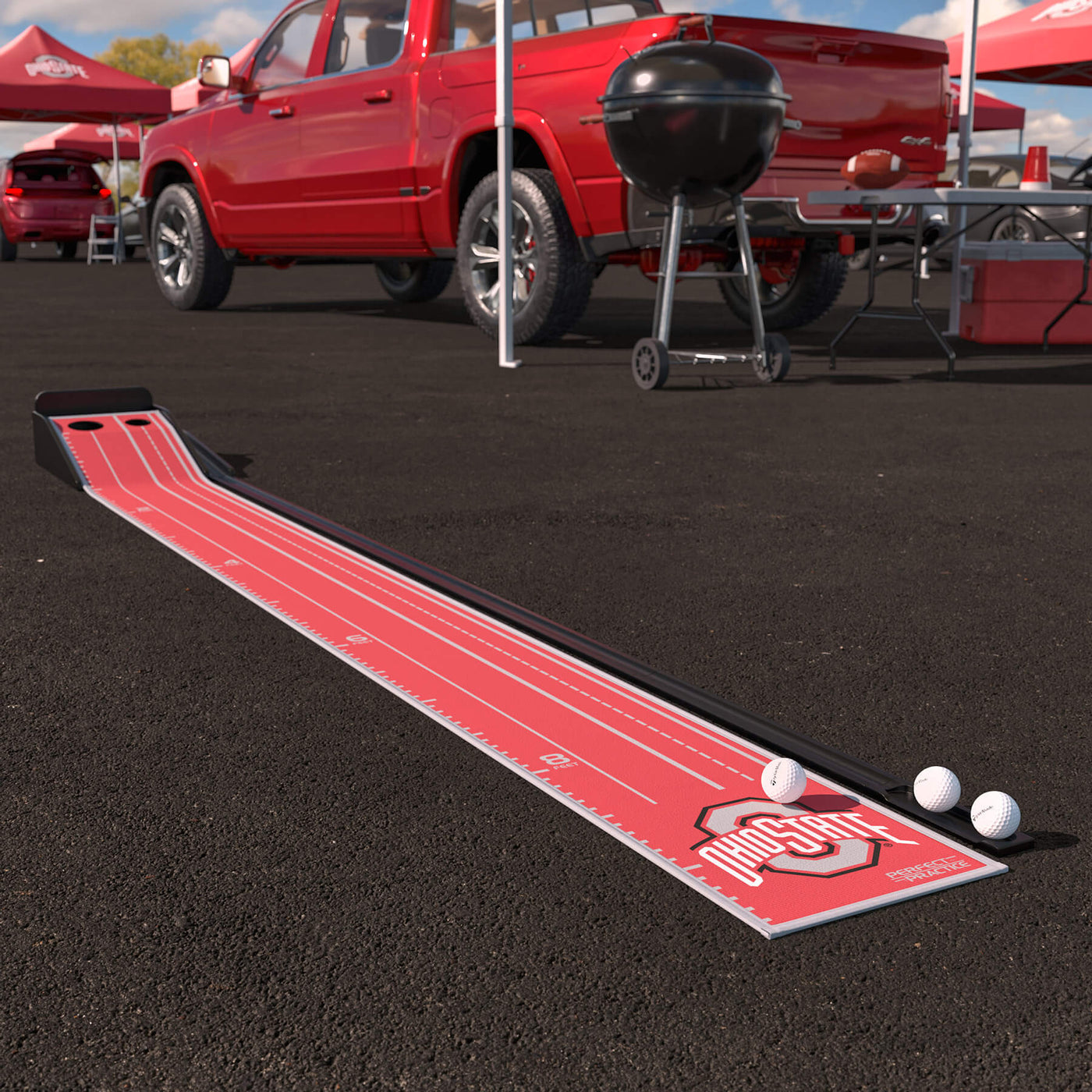 A Tailgate All-Star
Perfect Putting Mats are lightweight, portable, and roll out flat. They're the perfect addition to any tailgate or watch party. So grab some snacks and a cold beverage and make the most of your college football experience.
And… you don't even have to put down your drink! One-handed putting is a great way to improve. That's what we call an audible.
Featured Reviews
The GOAT Of Putting Greens

What are you waiting for!? Just buy it.

Frank G.03.25.2020

Perfect Putting Mat™ - V4 Standard Edition
Everything It Claimed To Be

It's a nice addition to the house to help practice when I'm too lazy to leave.

Josh R.03.25.2020

Perfect Putting Mat™ - V4 Standard Edition
Excellent Putter Training Aid!

I love the quality of the Perfect Putting Mat. I have been using this around thirty minutes per day and my putting has become so much better over just a few weeks. One of the best golf purchases I have made.

Scott R.03.25.2020

Perfect Putting Mat™ - V4 Standard Edition
Great Putting Tool

Very happy with the Perfect Putting Mat. I have already seen great results!! Highly recommend it to everyone wanting to improve their putting!!

Jason C.03.25.2020

Perfect Putting Mat™ - V4 Standard Edition
Office Distraction

Put mine in the office. Putt multiple times per day. Things are definitely getting better. Love the raised target end to encourage a strong stroke.

Richard M.03.25.2020

Perfect Putting Mat™ - V4 Standard Edition
Outstanding Practice Mat

Helps with alignment and stroke!

Mark W.03.25.2020

Perfect Putting Mat™ - V4 Standard Edition
+2.6 Strokes Gained

My putting has improved since purchasing Perfect Practice. This investment is helping my speed control and accuracy. I have improved my putting by 2.6 strokes gained.

Gregg C.03.25.2020

Perfect Putting Mat™ - V4 Standard Edition
5 Stars

Wife purchased for me for our anniversary in early June, love it! Set up in our family room, practice on it daily, not been back in the box since!

Philip W.03.25.2020

Perfect Putting Mat™ - V4 Standard Edition
Awesome Tool

Helped me drop my score 1st time breaking 💯. Super stoked on future possibilities. Thanks Perfect Putting Mat!!! Woohooo

Anthony H.03.25.2020

Perfect Putting Mat™ - V4 Standard Edition
Perfect Practice

Using the perfect practice has absolutely been fun. Set up in my living room, I practice on it daily. It has dramatically helped me make more putts.

Glynn S.03.25.2020

Perfect Putting Mat™ - V4 Standard Edition
Keep Practicing, Keep Winning
Spend a little time practicing your putting on Saturday, and we know you're going to make more putts on Sunday.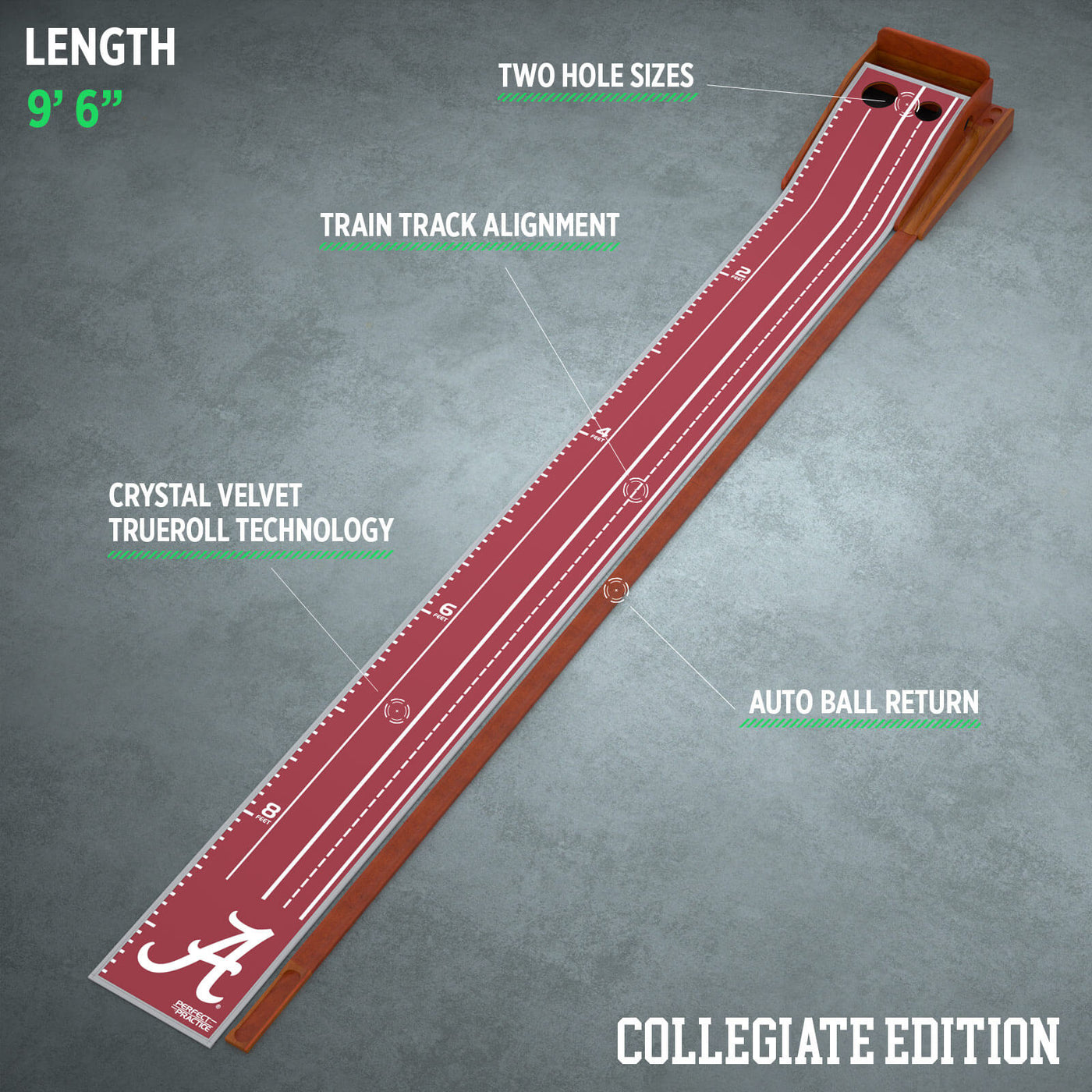 Two Hole Sizes
You'll never get bored with our two hole sizes: regulation and reduced. The regulation (big) hole is perfect for everyone, and the reduced-size hole is a challenge for even the best golfers. 

Speedier Auto Ball Return
Chasing golf balls isn't fun. Our Integrated Auto Ball Return has been improved to send the ball back to you even quicker -- make or miss -- so you can stay in one spot. It also holds up to four balls so you can speed up your practice.  

Train Track Alignment
Whether you play a lot of golf or don't play much at all, Track Track Alignment makes it easy to aim your putter. And if you want to use Train Track Alignment to work on your stroke like the pros do, you can do that, too!

Crystal Velvet TrueRoll Technology
On our mats, there is no skipping or skidding thanks to Crystal Velvet Trueroll Technology. Perfect Putting Mats roll like the greens the pros play on tour -- between 10-14 on the stimpmeter -- depending on the underlying surface (hard floors are faster than carpet).

New-And-Improved Backing
When you want to practice, you want to practice. Our new-and-improved backing ensures your mat will roll out flat without curls and bumps. 
how to use it
Two-time Major Champion Dustin Johnson and more than 100 other tour pros use it daily at home to lower their scores. Here's their recipe for success.
Make Practice Easy
Roll out the Perfect Putting Mat and put it in a place you walk by every day. Keep your putter and a few balls nearby so there's no excuses! You don't need to spend a lot of time. Putt for a few minutes every day or a few times per week and you'll feel the difference in your stroke and confidence immediately.
SHARPEN YOUR STROKE
Once you start draining putts on the larger hole, switch to the smaller hole to get your stroke even sharper. You won't believe how big the holes on the course will feel. And we definitely want you to compete against your friends and family. It's not only fun; it simulates what it's like to play on the course.
Don't Short Yourself
If you can make an 8-footer, you can make a 3-footer. For that reason, our tour players and coaches recommend that golfers practice longer putts to improve their results. We also like the game where you start at 3 feet and move back 1 foot with every putt, returning to 3 feet if you miss. It's a great way to simulate on-course pressure and see the ball going in the hole a ton.
Add More Training Aids To Speed Up Your Improvement
Testimonials From The Pros
"Anyone who is serious about improving their putting needs the Perfect Putting mat. It's done wonders for my confidence and become part of my daily practice."

Dustin Johnson, Major Champion

"You make this putt, you can make any putt! (on the Perfect Practice Mat) All day, I'm buying!"

Matt Wolff, PGA Tour Champion

"The Perfect Putting Mat is the first thing you should buy if you want to make more putts."

Sir Nick Faldo, 6-Time Major Champion

"I love the Perfect Practice putting mat, great for rainy day practice."

Lydia Ko, LPGA Tour Champion

"It's much better than other mats I have used over the years. Great Quality. Thanks again!"

Vijay Singh, PGA Tour Legend

"Thanks Guys!!! Been using it non-stop. Love it!!!"

Jimmy Walker, Major Champion

"Feeling good!!! Thank you Perfect Practice, Go get yours!!"

Joaquin Niemann, PGA Tour Champion

"Thank you! Awesome putting mat!"

Nelly Korda, LPGA Tour Champion

"It's working great and looking forward to having some fun with it the next few weeks before getting back out there!"

Talor Gooch, PGA Tour Pro
Frequently Asked Questions
*Official Team Logos Licensed By Fanatic Group